University of Guelph research project to turn coproducts from ethanol production into new products has been awarded $1 million from Agriculture and Agri-Food Canada (AAFC) and three industry partners.
The five-year project, called the Bioproducts Agri-Science Cluster, will receive $700,000 from AAFC's AgriScience Program and $300,000 from IGPC Ethanol, Competitive Green Technologies and Greenfield Global.
The funding, announced Thursday, is part of a broader $11.2-million federal investment to the Bioproducts Cluster under the Canadian Agricultural Partnership, led by Bioindustrial Innovation Canada.
For additional Information continue reading the University of Guelph, and Bioindustrial Innovation Canada (BIC) news post's linked below.
Bioindustrial Innovation Canada (BIC):
https://www.bincanada.ca/single-post/2019/04/25/Investing-in-Canadas-bioeconomy-to-help-provide-opportunities-for-farmers-and-grow-the-clean-economy
https://news.uoguelph.ca/2019/04/bioeconomy-research-at-u-of-gs-bioproducts-discovery-and-development-centre-gets-1-million/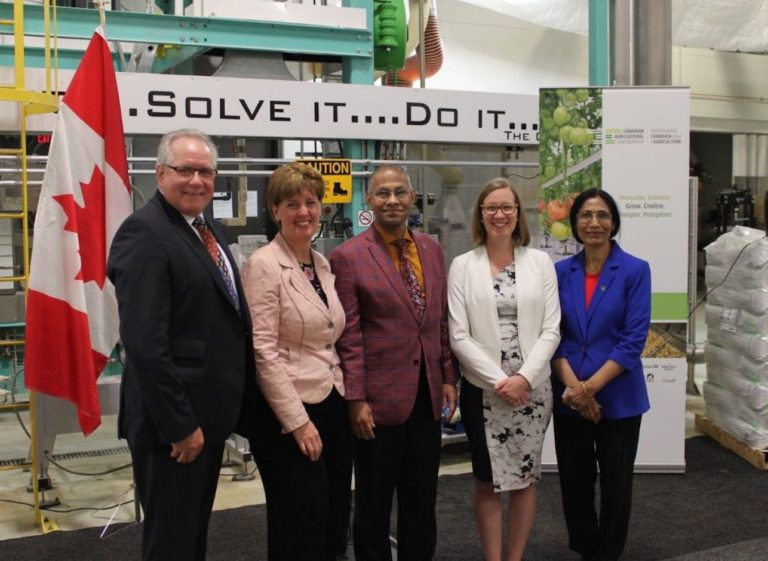 From left: Sandy Marshall, executive director of Bioindustrial Innovation Canada; Honourable Marie-Claude Bibeau, Minister of Agriculture and Agri-Food Canada; Prof. Amar Mohanty; Honourable Karina Gould, Minister of Democratic Institutions; and Prof. Manjusri Misra.