About the Director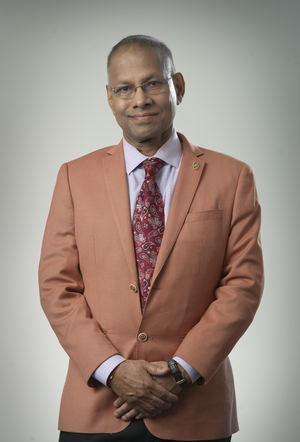 Amar K. Mohanty, PhD, Fellow AIChE, Fellow SPE, Fellow RSC (UK)
 Director, Bioproducts Discovery & Development Centre (BDDC)
 Professor & OAC Distinguished Research Chair in Sustainable Biomaterials 
 University Research Leadership Chair
 Editor-in-Chief of Sustainable Composites, Composites Part C - Open Access
 Prof. Mohanty's Research Gate profile can be found here. (August 13, 2020)
 Research Gate Score: 47.11
 Prof. Mohanty's Google Scholar profile can be found here. (August 13, 2020)
 Citations: 34,661
 h-index: 83
 i10-index: 335
Prof. Amar Mohanty, is a Full Professor and OAC Distinguished Research Chair in Sustainable Biomaterials. He is the Director of the Bioproducts Discovery and Development Centre & University Research Leadership Chair Professor at the University of Guelph, Ontario, Canada.
He is an international leader in the field of bioplastic, biobased materials with a focus in engineering new sustainable materials. He is a highly cited researcher with more than 800 publications to his credit, including 381 peer-reviewed journal papers, and 66 Patents (awarded/applied). 
Prof. Mohanty received many awards, including the (I) Lifetime Achievement Award from the BioEnvironmental Polymer Society (BEPS), USA; (II) Andrew Chase Forest Products Division Award from the American Institute of Chemical Engineers (AIChE); (III) Jim Hammar Memorial Service Award from BEPS; (IV) OAC Alumni Distinguished Researcher Award (V) JL White Innovation Award from the Polymer Processing Society (PPS). He was the holder of the Ontario Premier's Research Chair in Biomaterial and Transportation and Alexander von Humboldt Fellowship at the Technical University of Berlin, Germany. 
He has been named with 3 fellows: (I) Fellow American Institute of Chemical Engineers, (II) Fellow of Royal Society of Chemistry & (III) Fellow of the Society of Plastic Engineers. He received the TOP RESEARCHER AWARD in 2019 – "the Synergy Award for Innovation" from Natural Sciences and Engineering Research Council of Canada (NSERC).
Prof Mohanty is the Editor-in-Chief of Sustainable Composites, Composites Part C -Open Access; an ELSEVIER journal.